The Alpes-Provence and La TransVerdon - VTOPO Edition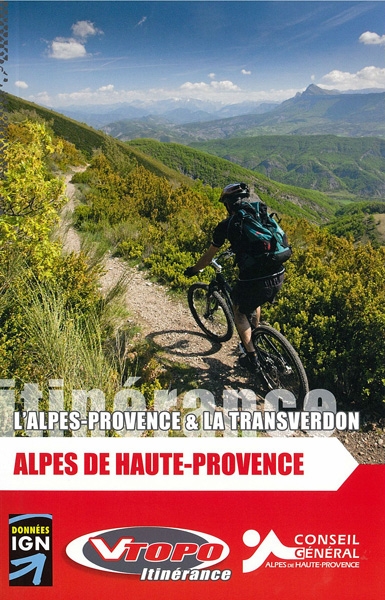 Browse this book which presents in full 2 must-see mountain bike routes in the Alpes de Haute-Provence: the Alpes-Provence and La TransVerdon.
mis à jour le 24/07/2019 par Velo Loisir Provence


These 2 exceptional marked and secure routes, of one week each, take the most beautiful trails and cross the typical landscapes of the Alpes de Haute-Provence. These routes are labeled Grandes Traverées VTT by the French Cycling Federation.
The Alpes-Provence connects the alpine peaks to the trails of Provence and Luberon for almost 300 km. The course is cut into 18 sections with an option starting from Sisteron.
The TransVerdon starts from the Verdon springs, at more than 2000 m above sea level, to cross the mountains and valleys of the Verdon Regional Natural Park for more than 260 km. The course is divided into 15 sections with 3 variants or options.
In this topoguide, each section incorporates clear and detailed data, IGN maps, useful information, many quality photos, a list of accommodation, thematic texts and a rating system for difficulties ranging from V1 to V6.
Author: Departmental Council of the Alpes de Haute-Provence
Size: 14x23 cm
144 pages
Eco-friendly paper, label Imprim'Vert
ISBN: 978-2-916972-38-1
Fermer la carte intéractive
Order your free brochure
Discover our editions of the Luberon south side to prepare your weekend and holidays: guide, accommodation, hiking...
Order