GTV VTT Etape 9 - De Lauris à Mérindol
The route enters the flanked sides of the south face of the Petit Luberon and rises sharply to the majestic panorama of Portalas and the mysterious Cedars Forest.
mis à jour le 11/04/2019 par Velo Loisir Provence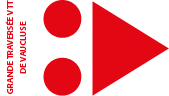 Recommended period(s)
Spring
|
Autumn
|
Summer
|
Winter
|
Type(s) of land
Ground
|
Stone
|
Municipality(ies) crossed
Taillades
|
Robion
|
Maubec
|
Mérindol
|
Cheval-Blanc
|
Lauris
|
The ultimate stretch of this MTB GT, which had to finish on a festival of scrubland, rock combes and very Provencal technical trails!
You start the ascent of the south face of the Petit Luberon at great pace by a wide track. On the other hand, the last hectometers on rough and technical trails to reach Le Portalas (690 m.), are not at all rest. At the top, magnificent panorama of the Durance Valley, the Crau de Camargue and the Alpilles. You will then travel an atypical passage of this Provencal route, the Cedars Forest and its majestic centuries-old trees.
You then switch through a wild valley bottom to the foot of the Grand Luberon ubac. Again, the vegetation offers striking contrasts. By a succession of paths and paths more or less easy along the Piedmont of the Petit Luberon, you reach Oppède-le-Vieux, village steeped in history, then Maubec.
From Maubec, you quickly reach the medieval villages of Robion, via single-track players, then Taillades, passing along the iconic Canal de Carpentras. From here, through beautiful winding tracks, you progress on the west flank, then south of the Petit Luberon, along a mosaic of spectacular croupes and deep combes.
A little higher you will reach horns, Trou du Rat, Mayorques and Saint-Phalez. These man-shaped scrubland environments since the Neolithic, interspersed with valleys with exuberant vegetation, are of great ecological richness and are home to an avifauna rich in exceptional raptors. A last run then a final graphic descent on a nice path, plunges you on the old Mérindol and its dramatic healing of the Vaudoise epic in Luberon.
Our good addresses
Fermer la carte intéractive
Order your free brochure
Discover our editions of the Luberon south side to prepare your weekend and holidays: guide, accommodation, hiking...
Order