Itinéraire vélo - Terres, Truffes et cascades, Aups
mis à jour le 04/08/2022 par Velo Loisir Provence


Recommended period(s)
Autumn
|
Summer
|
Winter
|
Spring
|
Municipality(ies) crossed
Villecroze
|
Aups
|
Salernes
|
Tourtour
|
Sillans-la-Cascade
|
From the tourist office, take the D77 and follow "Toutes directions". At the crossroads between the D957 and the D77, take the second option and head towards Tourtour. Continue for 9 km to the end of the road. From the roundabout, you can reach the centre of Tourtour (750 m away). 1 At the roundabout at the foot of Tourtour, continue on the D51 towards Villecroze. After about 5 km, at the crossroads, continue downhill on the D557 and reach Villecroze. Go through the village centre and leave the D557 to turn right onto the D51 towards Salernes. 2 After 900m, turn right onto Chemin des espèces. Go straight on for 2.2 km and, after a short but steep climb, turn left onto Route de Saint-Barthélemy. Cross the D560 (be careful!) and continue straight on Chemin de la Roque until you reach the car park at the foot of the stadium. Take Rue des Martyrs de la Résistance and continue straight on Boulevard Paul Cotte. Join the central square and go to the right, following "Toutes directions" (D2580). At the crossroads with the D31, continue straight on the D2560.3 Cross the roundabout at the exit of Salernes and follow the direction of Aups and Sillans-la-Cascade (D2560). Drive for 900m and then, at the crossroads at the top of the hill, turn right towards Aups (D560). At the next roundabout, turn left onto the D31 towards Aups. Leave the D31 after 500m and take the greenway (signposted EuroVelo 8 La Méditerranée à vélo). Follow the greenway to Sillans-la-Cascade. Go around the secure car park marking the entrance to the Sillans' waterfall site and reach the junction between the D22 and the D560. Join the D22 in the direction of Aups. Stay on this road for more than 10 km until you reach Aups. At the roundabout, take the 3rd exit and continue straight on until you reach your starting point.
Picture gallery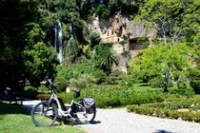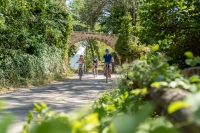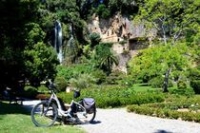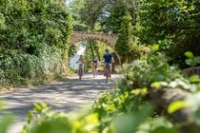 Our good addresses
Fermer la carte intéractive
Order your free brochure
Discover our editions of the Luberon south side to prepare your weekend and holidays: guide, accommodation, hiking...
Order